Enhancing Your Capabilities Through Expert Consultation and Superior Installation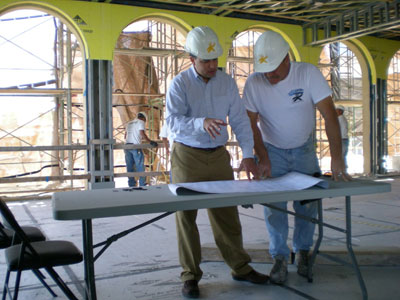 Have you considered using a specialty hand-applied plaster or stucco finish only to doubt the subcontractors' ability to translate your vision into reality? Have they tried and fallen short of your expectations?
WE ARE THE SOLUTION WITH A PROVEN TRACK RECORD OF BRINGING ARCHITECT'S VISION TO LIFE.
Architects are interested in materials and how they can incorporate the right selections into each project. A broad knowledge of all kinds of building materials on the market is required to be a success in the field and bring unique character to each commission. In contrast to others offering specialty finishes, O'Guins are also materials-driven. Because of our years of experience in the industry, we are constantly networking with worldwide suppliers and traveling to their manufacturing facilities to evaluate the specifications and aesthetic value of their current product lines and sometimes even participating in the development of materials soon to be released. No one else in the field brings that level of in depth knowledge to the area of wall surface finishes to the overall project goals.
Results repeatedly show that involving O'Guin Decorative Finishes at the early-stage of a project allows architects to optimize design, durability, cost, and the proper sequencing of installation. If needed, O'Guin can also assist in the development of specifications for interior and exterior wall systems.
Working with O'Guin Decorative Finishes and utilizing our expertise provides you with the following benefits:
Access to in-depth and up-to-date finishing materials that meet your technical specifications and aesthetic goals
Access to value engineering by utilizing a wide range of domestic and imported materials at differing price points
Involvement from the concept development phase through onsite installation to ensure desired results
Guidance in specifying eco-friendly materials for LEED Certification
---
"Christopher O'Guin recently executed a specialty finish for us that required a nuanced understanding of the desired effect… an integral part of the macro design statement. The owners were stunned with the effect and all agreed that the end result played a major role in the power of the design statement."
– Carl Erickson – AIA Architect, Naples
---